No Doubt the Right Cross STDcd DNA-CP
(Right Crossbow Zane x Dew the Right Cross)
"Rustic"
26 Mar 2020  red merle bi male  21in, 48lbs
OFA-good, eyes TBD
MDR1 n/n, HC n/n, DM n/n, CEA n/n, PRA n/n
full dentition, scissors bite
ASCA, AKC registered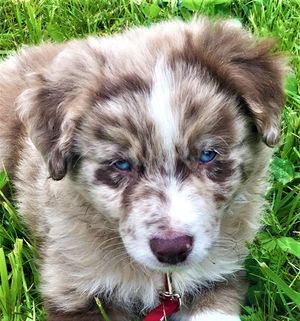 Rustic is a personality plus young dog bred by Bruce Nelson of Nebraska.  Rustic was purchased with the plan to use with my Killi daughters.  His temperament and personality traits compliment what Killi has been producing.  And he even adds another couple of doses of Dude to my pedigrees through Bailie (a Dude granddaughter) and Sam (a Dude son).  Rustic is a happy, outgoing dog who is not bothered by much of anything.  He is very attentive to me but will happily go exploring in new situations.  Rustic is a very naturally talented stockdog.  He has a silly and animated personality, but when he gets on stock, he is serious and thoughtful.  He works sheep and ducks with a calm approach and natural distance.  He has not had a lot of experience on cattle but is starting to hit heads and heel.  He still gets pretty excited with cattle and needs more experience to gain confidence to work calmly.  Overall he has an easy working style, he is bit soft and does not a heavy hand, but takes pressure well and is honest with his stock.