No Doubt the Right Cross
(Right Crossbow Zane x Dew the Right Cross)
"Rustic"
26 Mar 2020  red merle bi male  20in, 45lbs
hips TBD, eyes TBD
MDR1 n/n, HC n/n, DM n/n, CEA n/n, PRA n/n
full dentition, scissors bite
ASCA, AKC registered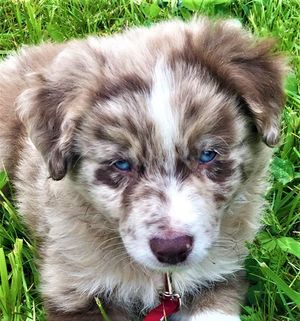 Rustic is a personality plus puppy bred by Bruce Nelson of Nebraska.  Rustic was purchased to hopefully use on my Killi and Gunny daughters.  His temperament and personality traits compliment what Killi and Gunny have been producing.  And he even adds another couple of doses of Dude to my pedigrees through Bailie (a Dude granddaughter) and Sam (a Dude son).  Rustic is a happy, outgoing pup who is not bothered by much of anything.  He is very attentive to me but will happily go exploring in new situations.  Rustic is a super nice pup and I can't wait until he matures to see how his working traits emerge over time.
some of Rustic's relatives