Starstuff's Makin a Killin
(HOF WTCH-X Starstuff's Killian Qwick RTDcs AFTDcsdm x WTCH Imagine the Right Cross)
Harley is the dog we kept from the Killi x Midge cross.  She was the only red dog in the litter which isn't a very good reason to pick a puppy but...  Harley is a small girl but packs a lot of energy and enthusiasm.  She is not initially sure about stranger's attentions but warms up quickly.  Harley is little bit soft in temperament but is very responsive and attentive, she tries hard to please.  Harley is built for speed and athleticism, very active with lots of drive.
Harley has tons of natural talent on stock.  She reads her group well and is not overly pushy, with a good sense of rate and distance.  She started out that way and remains consistent in her approach to stock.  Harley shows some eye and hopefully that will come out more with training and experience.  Harley is just starting her training so we will see how she takes to some pressure and handling.  So far she has just been fetching stock to me, which is always my default, learning to read and understand the behavior of the stock she works. 
Harley is a sweet and loving dog who is very devoted and we are excited to see what the future holds for her. 
"Harley"
11 Oct 2019   red merle female   18in, 32lbs
OFA-tbd, eyes-tbd
MDR1 n/n, HC n/n, DM n/n, CEA n/n, PRA n/n
full dentition, scissors bite
ASCA, AKC registered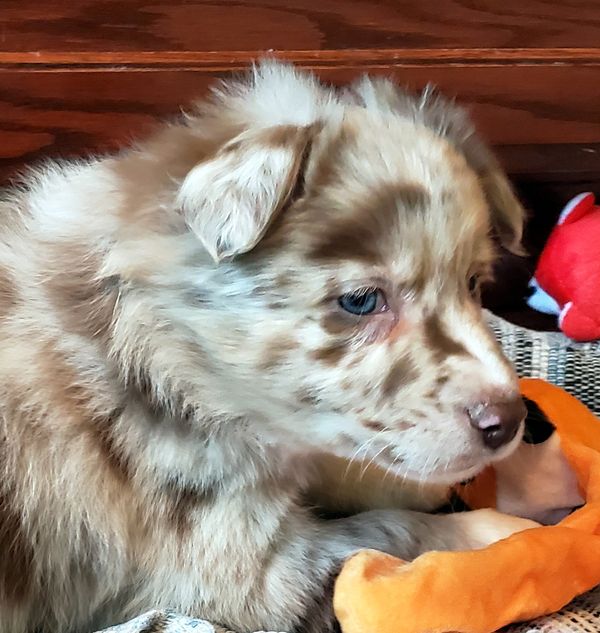 Harley keeping broke heifers to handler while "going for a walk"
videos are in sequence of continued session