two pups available from this litter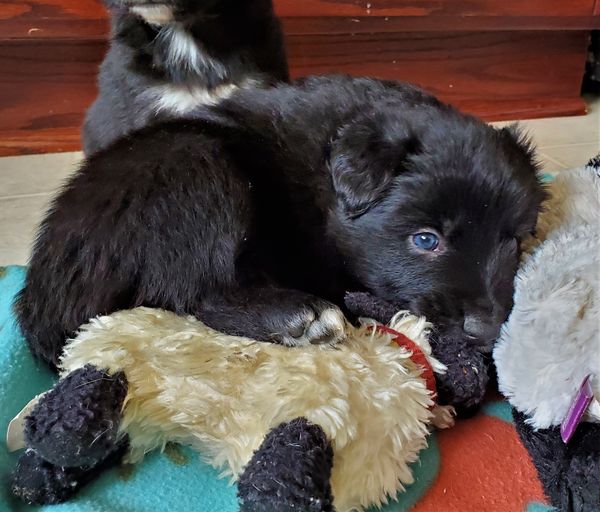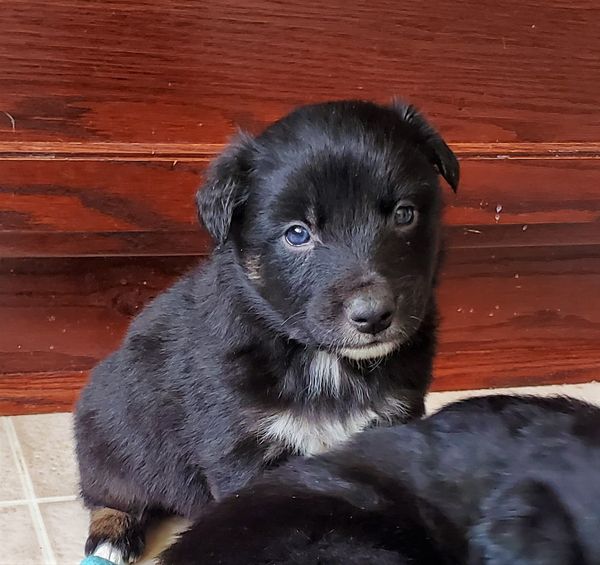 Killi and Midge were paired to produce this litter because of their complimentary working styles.  And this cross pulls out Dude's genetics on both sides.  Both dogs are high drive and intense to work stock.  Killi is a confident, strong and biddable dog that works all stock with honesty and enthusiasm.   He would love a job where he could work 24/7.  But he is also happy to just hang out when nothing is going on.  Killi has proven his abilities time and time again both in real ranch/farm situations as well as in trialing competitions.
Midge is overall a calmer worker than Killi.  She will settle nicely to fetch sheep (and ducks) and will push/bite goats when they get stubborn.  With maturity and experience, Midge has become confident on cattle both in the open and in small pens.  She will bite heads and push from behind with a heel if needed. 
Both dogs have kind, loving temperaments, are typically reserved with strangers and easy to live with.  They both have heart and try, with good solid working minds and attitudes.  Killi is an intense, pushy dog that won't let anything get by him.  Midge is intense as well but has a calmer approach to working stock with a better natural rate.  Killi is linebred on Dude, but Midge has Dude in her pedigree several times with outcrosses to 4 different working lines.  One of those lines being from my past dog, Gin (HOF WTCH Windsong's Imagine), who comes from a long line of old foundation greats.  Both Killi and Midge have been very health and are extremely athletic.  This cross will produce both natural working talent for field and arena, as well as potential for other performance venues.  Killi has pups doing extremely well in both stock trialing and as agility competitors.  His pups are on their way to making their own marks.