HOF WTCH-X
Starstuff's Killian Qwick
RTDcs AFTDcsdm DNA-VP
(HOF WTCH Rising Sun's Qwick Draw RTDcs x Starstuff's Play the Piper)
"Killi"

16 Dec 2010   red merle c/w male   21in, 56lbs 
OFA-good, CAER-normal 6/2019
MDR1 n/n, HC n/n, DM n/n, CEA n/carrier 
full dentition, scissors bite
ASCA, AKC registered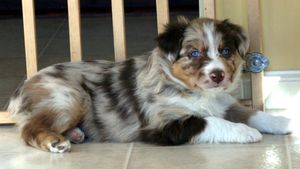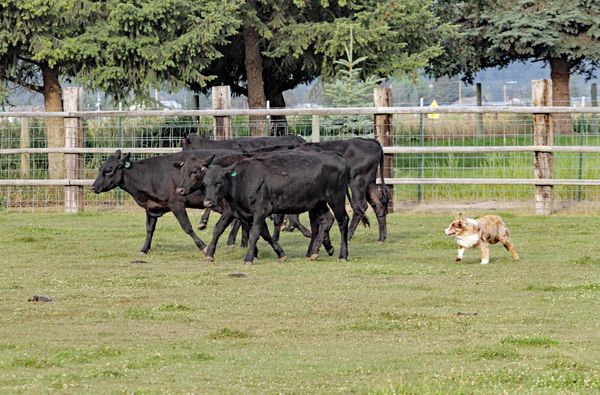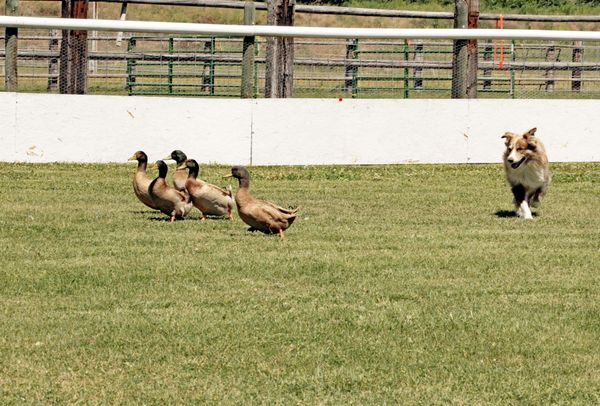 Killi is another one of those very talented dogs that gives his all to every job.  He is an intelligent problem solver and has a lot of confidence to perform any needed task.  He is extremely biddable, honest and has no quit in him.  He can be more pushy than you'd like when he's excited (a bit of an over achiever), but he is never out of control.  He will typically keep slow, steady and focused when doing a practical job he understands.  Focus is definitely never an issue!  He covers and reads his stock well and will widen his flanks as needed.  He has great precision when blocking stock from breaking back and doesn't need to be told what to do.
 
Killi has proven himself a very capable ranch dog on cattle, both at home and working on ranches in Montana.  He's had a lot of experience dog breaking cattle and dealing with tough ones.  He will use his confidence to control and teach them how to respect and move off a dog.  He will hit heads or front legs hard or heel when necessary.  He will also be kind enough with sheep and lambs, stopping them from breaking back with a light face grip and doesn't leave a mark on them.  Or lightly heel to move them where they don't want to go.  Once while trialing on sour ducks that would no longer just move off a dog, he kept blocking the duck from going back.  The duck finally just jumped in the air and tried to fly over him, but he leaped up as well and gentle put his mouth over its head like he would to do to stop a sheep.  The duck was perfectly fine but of course the judge had to call time. 

Killi can be typically reserved with strangers at times.  It's best to let him decide if he wants the attention, but if not, he will just move away from the offensive space invader.   But then at times he will seek out certain strangers' attention that he is some how drawn to.  He can be a bit reactive to sudden noises and movements but that's an advantage when reacting quickly to kicks and charges.  Definitely an intense dog.  Killi has an upbeat, ready to go personality.  When he is out with me he's always trying to figure out which pen or pasture of livestock we will work with next.  When I go in the house he waits quietly in the garage until I come back out.