WTCH
Starstuff's Gonna Be Qwick
DNA-VP
(HOF WTCH
Rising Sun's Qwick Draw
RTDcs

x
Starstuff's Play the Piper
)
"Gunny"
16 Dec 2010   red merle bi male   21.5in, 58lbs 
OFA-good, CAER-normal 6/2019
MDR1 n/n, HC n/n, DM n/n, CEA n/n
full dentition, scissors bite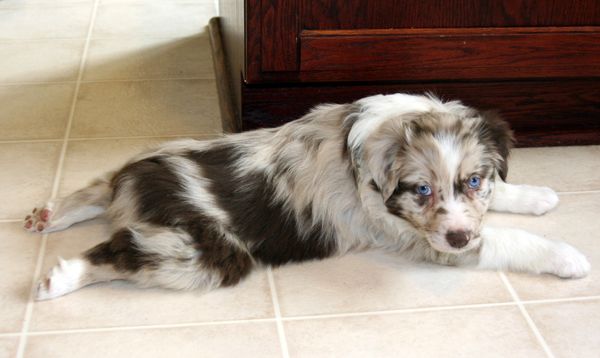 Gunny, like his brother Killi, is another super talented stockdog linebred on Dude.  His style on stock is somewhat more relaxed than his brother's, but his drive to work is just as intense.  Gunny naturally runs wide when sent on a gather, not tightening in or over pushing.  He will settle down and rate nicely on a fetch and even better on a drive.  On cattle, Gunny is a strong head dog and has a very effective, stylish low heel.  Gunny is very athletic, agile and fast running with a long ground covering stride, which he will kick into high gear to stop runaways.  He is very effective at getting well out ahead, resembling his sire Qwick's style at stopping forward motion. 
Gunny is politely reserved but is comfortable with people and enjoys their attention.  He is appropriately guardy when unattended, but very respectful to people and strange dogs when out and about. He has been with children as an adult (not raised with them) and completely accepted and enjoyed them.  Gunny has a more serious personality but does have his moments of playful silliness as well.  He is very biddable, loving and extremely devoted.  Due to my limited time spent training dogs the last number of years, Gunny has always taken a back seat to Killi. He did not have the experiences and advanced training that Killi has had, but he's equally talented, with some differences in style and attributes.  He is also a dog with no quit and would love to work all day, every day. 
Gunny has only produced a few litters so far, but the pups are proving themselves to be very talented stockdogs in their own rites.