WTCH Imagine the Right Cross DNA-VP
(MC Cash Agent x Dew the Right Cross)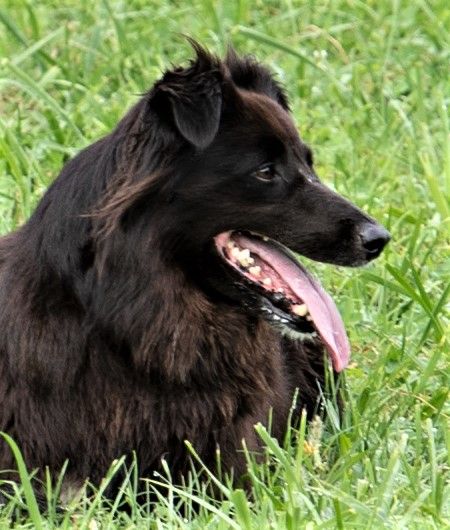 As a youngster, Midge was very outgoing and friendly, but was obsessed with climbing on anything she came in contact with.  She climbed on crates, boxes, picnic tables, you name it, much like a kid goat.  I think she really wanted to be an agility dog, but she ended up with me and I don't do that sort of thing.  As an adult Midge has became more reserved with people she doesn't know, but she still wants to climb on everything.  Midge is very curious and once she warms up she is a real sweetheart. Midge is a very athletic dog. She can run at top speed and turn on a dime, then immediately leap into the air to avoid a sudden obstacle.  I really like the way she is put together, level topline, nice balanced length and angulation and the right amount of ground covering leg.
Midge was a bit slow to working and gaining confidence on stock, but once she did, she was on it.  Now that she is mature, she has settled into being very talented with balance and a natural steady rate.  Midge uses moderate eye and stays very focused on her stock without being overly intense. She will use bite when needed but is not looking to bite just to bite.  She tends to lay down on her own when things are settled and under control.  On cattle she can be a bit overexcited but is gaining experience to work them in a calmer manner.  Midge will bite heads/noses and back legs/heels.  She is not deterred by a kick but needs more experience to learn to relax and engage her brain.  
Midge's personality is a mix of silly playfulness and independent seriousness.  She generally gets along well with other dogs and non-dominate females.  She can act submissive at times when scolded but does not pout or get resentful.  Midge greatly enjoys playing games with objects all on her own.  Out in the yard she will toss herself a toy and catch it, then bounce around until she gives it another toss.  Such a funny little dog.
"Midge"
30 Apr 2017   black bi female   19in, 43lbs
OFA-good, CAER-normal 8/2019
MDR1 n/n, HC n/n, DM n/n, CEA n/n
full dentition, scissors bite
ASCA, AKC registered